large stage productions need creative and exceptionally well-managed sessions.
If you have ever worked in events, you understand how much planning, work, budget, and staff it takes to deliver a multi-day conference for hundreds, or even thousands, of attendees.

The ASAE Annual Meeting & Exhibition is no different. It brings together 5,000+ association professionals for three days of learning through general and focused sessions, as well as networking in the exhibit hall. The critical behind-the-scenes production and creative execution for all elements on the main stage is work that ASAE entrusts in Yes&.

ASAE counts on Yes& to execute this event work flawlessly because they know we understand the purpose of the event – it's not just about the show, it's about the value to the attendee. Behind the main stage curtain, a meticulously orchestrated symphony of preparation and coordination takes place to ensure the ASAE Annual Meeting's success.

Working alongside Yes& for 18 consecutive years gives ASAE peace of mind that each day of the meeting will run smoothly. Because of this trusted partnership, ASAE can concentrate on the mission of the Annual Meeting, focus on member engagement, and help ensure the value of presentations, without stressing over technical hiccups or logistics distracting attendees from the content on stage.

With the right planning and execution, attendees won't even think about the team behind the stage delivering this experience, which is ultimately a success in itself! Here's an insider scoop behind-the-scenes of this year's 2023 ASAE Annual Meeting & Exhibition ...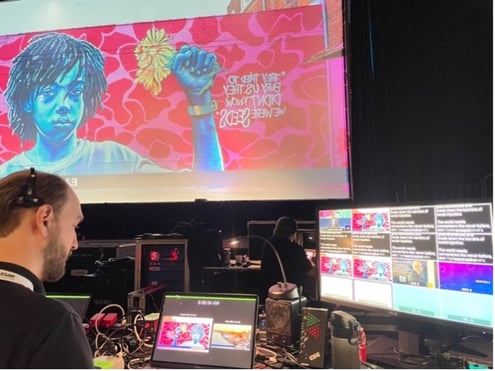 The Set-Up Marathon.
For months in advance, our dedicated account, creative, and stage management team is extending the conference brand that ASAE developed and applying it to everything that takes place on stage, polishing presentations from executive speakers, and coordinating with vendors for all the elaborate production equipment to arrive seamlessly on-site.

Then, before the meeting officially kicks off and attendees take their seats, there's a whirlwind of activity happening to construct and prepare the stage, both behind the scenes and what the audience will see. This process alone takes about three days and involves a crew of approximately 30 people. This crew transforms an empty convention center hall into a stage fit for ASAE's Annual Meeting.

The set-up process includes everything from assembling stage designs to meticulously positioning lighting and audio equipment to create an immersive environment that will captivate the audience and ensure the event runs seamlessly. Let's walk through the event-in-action and what actually goes down behind the main curtain …
It's Showtime.
Large stage productions need creative and exceptionally well-managed sessions. Yes& is a partner alongside ASAE to collect and coordinate details of everything that happens on the main stage as an extension of their team to collaborate with speakers, leadership, and partners. Yes& even assists with scriptwriting for ASAE leadership.

Yes& also develops the production schedule and runs rehearsals for all speakers in advance. This entails a show book, which is a play-by-play of everything that happens on stage. Sara Rassi, Stage Manager and Abbi Boose, Assistant Stage Manager from Yes& oversee this and pretty much everything else going on behind, center, and front stage.

It's complicated to make this all look simple. Some of the essential elements Yes& manages to make sure the event runs smoothly are:
Set Design: Picture this – it takes an immense amount of effort to transform a cavernous exhibit hall into a visual experience that wows attendees.
Lighting Brilliance: We've got to make sure everyone can see what's happening, but it's not just about visibility; it's also about making speakers look their absolute best under those bright lights.
Sound Excellence: In the vast expanse of a big exhibit hall, ensuring that every word resonates clearly is no small feat. Good sound quality is a must.
Video Wizardry: Behind the scenes, a team of video experts performs a captivating juggling act, seamlessly switching between three cameras and multiple sources to capture every vital moment.
Imagery Mastery: It's all about striking the right balance between engaging and non-distracting visuals. Three screens need to be filled with content that keeps the audience hooked without overwhelming them.
Accessibility Priorities: In today's inclusive landscape, we're committed to meeting the needs of all attendees, ensuring accessibility for all to enjoy and participate.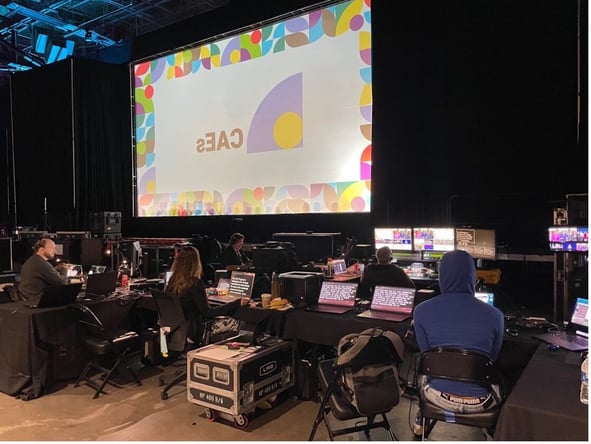 Screens, screens, and more screens.
Back stage and front stage, there is a small army of dedicated personnel behind unique operating stations with differing functions. To the left, Austin Smokowicz, Yes& Post Production Supervisor, is following the show book and the direction of the dedicated show caller to precisely advance conference graphics. He's also prepared a back-up laptop with the visuals loaded in case of emergencies.

The man in front of him, "the switcher," flips the display feed when any one of the three main screens, teleprompter, or speaker confidence monitors changes from a graphic, to video, to live video footage of the main stage and audience that is being filmed on the other side of the main screen.

Other surrounding stations are occupied by the teleprompter operator, who is following the speaker on stage; the video playback operator, who is playing pre-prepared videos from presenters and specially produced videos from Yes&; the shader, who is directing the three camera operators and processing images; and the A.I. cartographer who is creating captions for the audience.

There are a few additional crew members involved that aren't photographed above. They're on the front-side of the stage, or on their feet in many places at once like Sara and Abbi.
Lighting Director: This individual is responsible for creating the visual atmosphere of the event, using light to set the mood and enhance the overall experience.
Video Director: The video director oversees the visual aspects of the event, including live feeds, pre-recorded videos, and graphics displayed on screens.
Camerapeople: Three camerapeople are strategically positioned to capture the event happenings from various angles.
Technical Director and Show Caller: But we call her, Melinda Curley. She coordinates the efforts of the entire front-of-house team, ensuring that every cue is executed flawlessly, from lighting changes to video transitions.


Mic check 1-2, 1-2.
There are also two audio engineers: backstage (A2) and front-of-house (A1). While A1 focuses on the audio the audience hears, A2 provides support for the speakers and ensures their microphones and in-ear headphones are functioning properly to deliver a smooth speech, without worrying about technical glitches.

All the while, Sara and Abbi are on their feet, communicating via headsets ensuring the general session speakers are mic'd up, stage-ready, and where they need to be at the right time. Inside the production booth, Melinda, the show caller, is in everyone's ears giving verbal cues for all elements that happen on stage: when to play a video, send talent on stage, music, etc.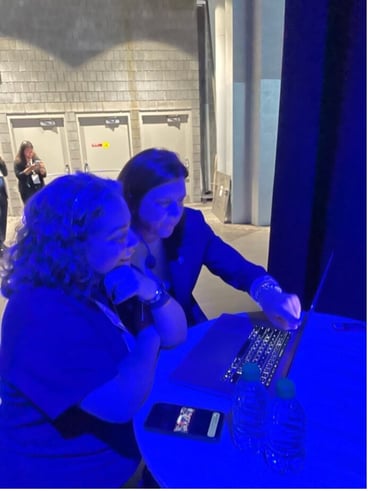 Above is Sara Rassi, Yes& Vice President, Account Services walking
through last minute presentation changes with ASAE Chair Lynda Bouchard Patterson of AMPED.
The Strike of the Set.
Once the event concludes and the applause fades, it's time for what's known as "the strike." This is the process of dismantling the entire event setup. The strike involves carefully disassembling lighting rigs, audio equipment, and video displays. Every piece must be packed up safely for transport, and the venue must be returned to its original condition.
Cheers to 2023.
Yes& is proud to consider this year's production a success. With the meeting theme being 'Shape Your Purpose,' our team is fulfilled to have shaped our purpose on delivering an exceptional stage production experience for 5000+ attendees who came to Atlanta, Georgia.

But don't just take our word for it, here's some of the feedback our team received:

"Every year you continue to WOW and AMAZE us. Thank you so much for the partnership and the friendship. It's always a pleasure working with you and your team!"
— Pam Troop, Senior Director, Meetings, Expositions & Special Events, ASAE

"Thank you so much for turning the footage so quickly! We appreciate the opportunity to share Cleveland's hosting of next year's event with our community!"
— Emily L Lauer, Vice President of PR & Communications, Destination Cleveland

"BTW, you should know your team were total pros!!! It was excellent on all fronts!!"
— Chad Foster, Keynote Speaker

"Both interpreters said it was the best set up ever and were so impressed with Yes&!... the placement of the interpreters is just exactly what all others should do. The Deaf community has been struggling to get access to ASL interpreters and your company has proven the perfect modal! We truly appreciate it!"
— Courtney Pruitt-Miller, Assignment Coordinator, Georgia Interpreting Services Network (GISN)


If you're in search of a team to produce your next event, Yes& to here to help! contact us.