The National Fish and Wildlife Foundation supports endangered species conservation with a Killer Whale Conservation Fund. Yes& and its PR team will handle special events, grant announcements, and on-site visits for reporters to killer whale breeding habitat in the Pacific Northwest. The NFWF Killer Whale Research Conservation program is supported by NOAA, the U.S. Fish & Wildlife Service, Sea World, and Shell.
These majestic southern resident killer whales swim and breed off the coast of Washington state. Yes& will deliver media for a grant announcement in November regarding innovations that will help provide more chinook salmon (their favorite yummy meal) to the whales and reduce their stressors, like navigational traffic in sea channels and noise (which impedes the whale's acute natural navigation system).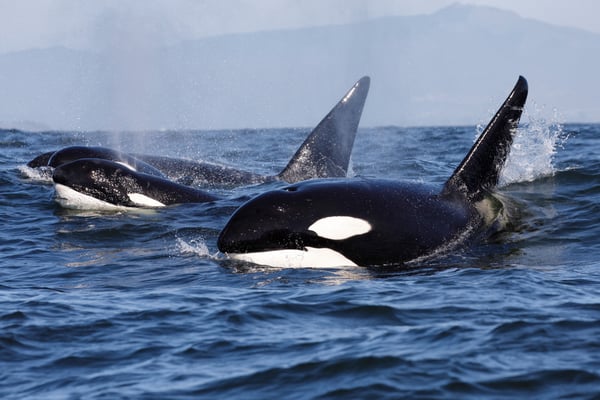 GreenSmith PR has maintained a relationship with the NFWF Marine Conservation team, including media outreach on removing marine debris from the oceans. On our last recycling campaign in Portland, Maine, working with the lobster industry to recycle traps, our PR Team secured 59 million media impressions in New England including USA Today and the AP. According NFWF's program manager Kaitlyn Goldsmith, working with the new, expanded Yes& PR team will mean even more press coverage moving forward.
Caitlin Bowman, our new addition at Account Coordinator on these environmental accounts, will join NFWF Marine Conservation's team for a press event in Ft. Myers next month. It's designed to publicize how commercial fishing boats can recycle their old gear.
Mike Smith says, "We are honored to support the killer whale research and conservation work funded by our client, National Fish & Wildlife Foundation. Shell has been a truly progressive partner in ensuring species protection and works hard along the coastlines to protect these amazing mammals."
Yes& is the Washington, DC-based marketing agency that brings commercial, association, and government clients the unlimited power of "&" – using a full suite of branding, digital, event, marketing, public relations, and creative capabilities to deliver meaningful and measurable results.
Let's talk about what the power of "&" can do for you - http://bit.ly/2TvbIXp