---
May is Asian American/Pacific Islander Heritage Month and Yes& joins in celebrating the people and cultures of the world's largest continent, which today hosts 48 nations. Since the first wave of Asian immigrants arrived nearly 200 years ago, the United States has benefitted from the rich heritage of people from China to Korea to Thailand to India to Russia, and dozens of points in between.
In recognition of AAPI Month, we reached out to some of our Yes& team members to hear what the designation means to them.
---
Senior Designer Evangeline Weber, known as Vanj around Yes&, is called Bangge among her Filipino family. After visiting relatives in Chicago, she immigrated to the U.S. in 2009.
"To me, AAPI Heritage Month is a time to honor our traditions and values, and to pass them on to future generations," Vanj said. "The patriotic side of me believes that AAPI Month puts a spotlight on what a truly united nation looks like: inclusive of many races and backgrounds, each with their own unique qualities that contribute to the country's enrichment and success."
Vanj and her husband, a VA native, are raising their young daughter in a bilingual, bicultural household. Filipino culture is centered on happiness, she said. "I call it the five F's: family, friends, food, fun, and faith."
In Filipino culture, families support each other in multigenerational households. Even friends and non-relative neighbors are treated like family, Vanj said, coming and going between each other's homes without knocking and borrowing sugar or whatever is needed.
Among these traditional bonds, respect for elders is paramount. "In Tagalog, we use 'po' and 'opo' at the end of sentences, which is a respectful way of answering elders or people of authority," she explained. "Also, 'mano' is when we pull our elders' hand to our forehead and ask for their blessing.'"
Vanj is passing to her daughter her devout Christian faith and her favorite traditions, especially surrounding Christmas. This includes decorating the house with a homemade parol, a Filipino ornamental lantern, and indulging on traditional Christmas sweets such as puto bumbong and bibingka, which is cooked outside over coal fires, causing aroma-filled streets at the holiday. According to Vanj, Disney's 2020 Christmas Advert captures the importance of family and tradition in the Filipino culture.
One aspect of Filipino culture Vanj has shared with her colleagues: "We can be really loud in the office!" she said with a laugh. "We always talk with our celebration voice."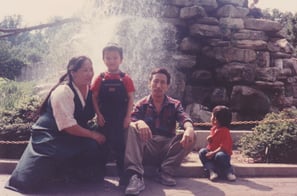 Tenzin Samphel, a Yes& motion and interactive designer, maintains deep ties to his family's native Tibet. His family was among tens of thousands of Tibetans who fled the Himalayan nation after China seized control of the government in 1959. Tenzin's parents lived for years as refugees in India and graduated college there, his father becoming a broadcast journalist and his mother a nurse. The family immigrated from Delhi to the U.S. in 1990 when Tenzin was 3 after his father was offered a position with the State Department's Voice of America headquarters in Washington.
Tenzin and his younger brother grew up in the Washington suburbs with close ties to the area's Tibetan community. Their parents immersed them in Tibetan culture; Buddhism; and Tibetan, Hindi, and English languages. That foundation, Tenzin said, led him to activism in the Free Tibet movement, including leading a chapter of the Tibetan Youth Congress.
It is with the activist mindset that Tenzin hopes AAPI Month will have the practical effect of unifying Asian-Americans for better representation in the U.S.
"How many AAPIs live in the U.S. and have no sense of communion with each other?" he said. "We're a huge population, yet our voter turnout is terrible, and there's not much representation in entertainment and other industries. This past year, as challenging as it has been, is the first time for some in the AAPI community to see themselves as a single demographic."
In the past year, Asian Americans have dealt with increasing xenophobia and crime, which rose nearly 170 percent in the first quarter of this calendar year over the same time last year, according to California State University's Center for the Study of Hate and Extremism. The spike is believed to be the direct result of prejudice and misinformation around the COVID-19 pandemic.
"It's been eye opening for me that we need to see ourselves as part of a larger tapestry," Tenzin said. "There is strength in numbers. Vacuums of information offer opportunities for people to create scapegoat situations. It's hard to challenge misinformation when we're not communicating with each other."
The part of his heritage he most hopes to spread in the U.S., Tenzin said, are the Tibetan community's principles of compassion and empathy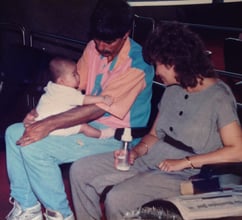 Abbi Boose, a Yes& senior account executive, was adopted from South Korea when she was five months old. "I'm super proud of being adopted from Korea, but I've never had a longing to be attached to my Asian roots," she said. Her parents – white Americans from Pennsylvania have always supported Abbi in making the connection to both her Korean and German heritages.
Although her appearance can make her a target of xenophobia, Abbi's been grateful to friends who have reached out to her in light of the crime wave targeting Asian-Americans. As far as AAPI Month, she says, "It's important that we're taking the time to recognize all Asian-Americans and their contributions."