In this three part series, we'll take a look at the best tips and tricks for setting up your speakers for success across the space, the presentation, and the tech.
There are a lot of things to keep in mind if you're managing speakers for your virtual event. In this three part blog series we'll dive into all the elements you'll need to ensure your speakers are ready to engage virtually. While we're all at home, there is an unprecedented opportunity for speakers to be authentic and show personality, but there's always a fine line to make sure they are still coming off professionally— not to mention, a slew of technical considerations they've never had to worry about on their own.
The Space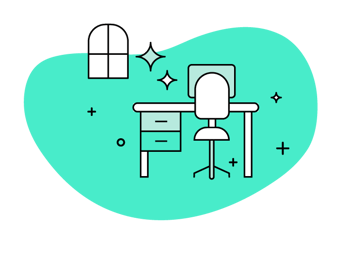 Your speakers are now inviting people into their homes, so it's important their space is both presentable and conducive to putting their best foot forward. Here are a few things to keep in mind before the event:
Background Environment
Ask them to declutter their space and remove items they wouldn't want people to see. They should know what will be visible in the frame and make sure the area is clean and orderly. We don't recommend a completely blank wall devoid of any personality, we just don't want it to look like a scene out of a hoarding show either. Background items can be a nice touch to show personality, but they shouldn't include items if you don't want people to see things (like private photos of children).
Lighting
Ample lighting ensures they look their best and improves clarity of the video. For the best results, speakers should always be facing the light. A few specific things to consider:
A room with a lot of natural light is helpful.

Make sure they don't sit with their backs to a window.

Overhead lighting can also be tricky and cast unwanted shadows.

Encourage them to think about bringing more lighting into their space (such as a lamp from another room or even a ring light) and position in front of them.



Sound
Most of us are not alone at home. Speakers should make sure their families, roommates, and pets know to keep it down to minimize distracting noise. The best setup would allow them to close a door and maybe even put up a sign as a helpful reminder not to be disturbed. If they have kids or pets, encourage them to be intentional about giving them something to do during that time: coloring activity, toys, and treats are a great way to keep either occupied.
Now that we've got the room setup, check out the next blog post on how your speakers present themselves.