In this second blog of a three-part series, we're looking at ways to support and guide speakers for virtual events. We first looked at the recommendations in and around the physical spaces of the speakers, so now let's turn our attention to how they present online.
The Presentation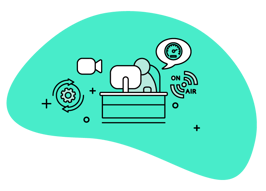 Regardless of whether it's their first speaking engagement or 100th, the atmosphere speakers lose from being in front of an audience matters. And they no longer benefit from having an audience's undivided attention in a ballroom, dramatic lighting, or focal point of being on a stage and able to walk around. The burden of keeping people engaged falls more on your speakers than ever. There are some practical things to remember much like you would for a real event, and some additional tips for the virtual setting:
Clothing
Think about how you want your speaker to dress. You may want them to wear what you'd expect at a live event. Or perhaps you're ok with them being a bit more informal. Be clear and set expectations up front. Much like a live event, you want speakers to at least stay away from busy patterns.
Personality
If your speakers feed off of a live audience, this is going to be interesting for them. Even if your speakers don't, this is still going to be interesting for them. They will need to work harder to appear dynamic on screen. It will feel like an exaggerated version of themselves, but trust us, it's not. If you're pre-recording their segment, make sure someone is there to provide feedback. If they will be live, provide rehearsal and coach them then.
Positioning
For the best viewing and framing of the video, have them center themselves in the middle of the screen.
Eye Contact
Making eye contact with the camera is going to be especially important in keeping the audience engaged. And it will look more polished. A few specific tips:
If they have notes or a full script, make sure they are pulled up on the screen where the camera is. You don't want them looking down or away to a second monitor pulling the focus away from the audience.

Ask them to position their device at eye level, even propping up the laptop using books if they have to.
Rehearsals
Rehearsals are important for any live event, and even more important for a virtual one. Make sure you have at least one to two rehearsals for your speakers. These are the things you want to make sure is covered:
Understand the process from start to finish, where they log in, how to use chat and Q&A functions, etc.

Have all necessary software downloaded.

Run through presentations from beginning to end. This is particularly helpful if there are different forms of content (slides, polling, video) that need to be cued up at various points of the presentation.

A full run-through for all live components, particularly to rehearse the transitions.
Day-of
Tell your speakers to login at least 10-15 minutes head of their scheduled time to speak. Having a separate virtual green room will allow speakers time to arrive early and have all their tech ready to go so you can start on time.
So we've nailed down the space and presentation...let's turn our attention to perhaps the most important element of all, the technology.