Ideating a brand concept to show a client is an extremely important step in the process before spending hours creating design assets that could potentially be heading in the wrong direction.
Perhaps you've heard of stylescapes before. A stylescape is created to demonstrate to a client how a brand or project will look and feel. It captures a collection of brand elements, like colors, typography, images, and tone, and compiles these assets to provide a visual aesthetic. A stylescape shows how the brand is portrayed across different platforms without carrying those big decisions all the way to collateral.
After a brand strategy is established, that's when stylescapes come in. It's imperative to understand the background of a client's brand early through discovery and research. The key research has been gathered and now is the time to put it all together into a brand story—a stylescape provides that opportunity for the client to visualize it all: the brand messaging, taglines, slogans, design.
Does every client project call for a stylescape?
Stylescapes are used most often for rebranding projects where a logo, campaign, and/or collateral is being developed. At Yes&, however, we have been using them more and more for website redesigns to help align the client's expectations with our creative vision.
What does a stylescape consist of?
There's no one right way to build a stylescape, but there are components consistently included. Most rebrand stylescapes display:
a color palette (primary, secondary, and sometimes tertiary),

font family recommendations and use,

layout examples,

illustration styles and/or photo treatments,

textures/patterns,

and logo characteristics.
Website stylescapes focus more on individual pieces that contribute to the overall user experience, such as menu styles, navigational elements and icons, and interactive structure, like hover and clickable states. That said, there's still some overlap with a rebrand stylescape including typography recommendations, image treatments and styles, and color palette directions, all while keeping web accessibility standards in mind.
How does a stylescape help the client envision the strategy?
Think of a stylescape as a bridge between strategy and execution. It not only includes the design direction, but also shows how the brand architecture and audience personas from the strategy phase influence the overall vision of the brand. The goal is for the stylescape to help crystalize in the client's mind what is to come in execution.
What makes every project's stylescape unique is the research and brand strategy that comes before it. The desired audience, personality, and experience is different for every client, so the visual approach reflects those differences.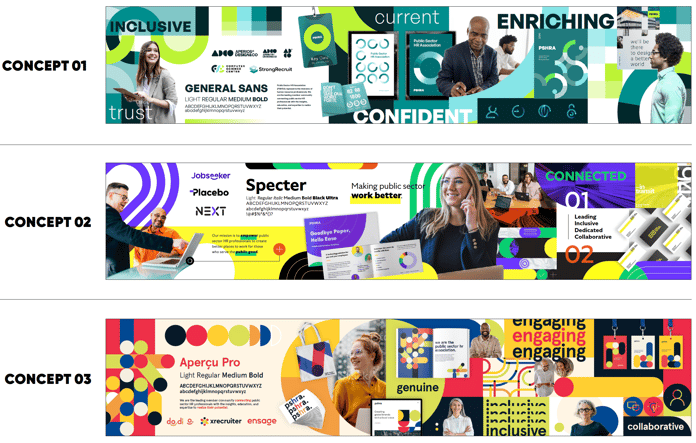 NACD was looking for a clean, modern font to convey their precise and professional brand personality. They also chose the angular patterns and sophisticated photography style to represent their connective and elevated characteristics. The high contrast, yet restrained color palette, provided the bold tone they wanted to tie it all together.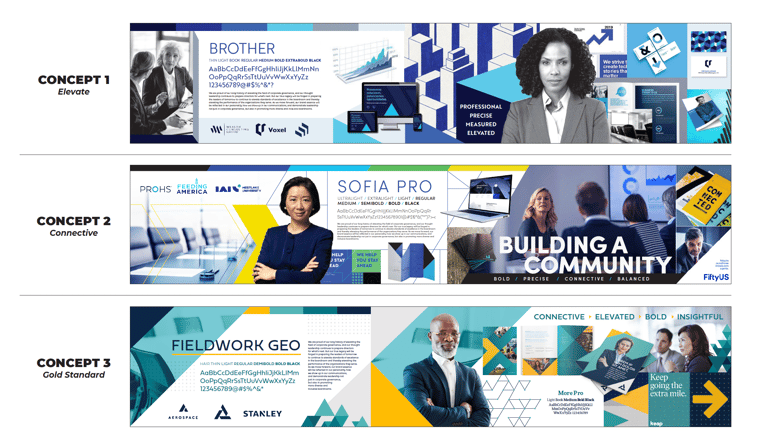 PSHRA wanted to come off as genuine and inclusive to their audiences, so we provided imagery and patterns to embody that. The fonts were meant to feel clear and current, while the color palettes were vibrant to show their brand's confidence and leading spirit.
The aim of the creative team is to initially give the client 2–3 very different visual directions to choose from. We then work with the client to revise and refine a singular direction and use it as a guide for the execution phase.
After giving NACD their stylescape options, they determined each one had different strengths they wanted to incorporate into the final. PSHRA, on the other hand, chose almost everything from one option with just a few aspects incorporated from the others.

That's to say, the process can differ slightly, but the results always provide the client with an ability to more clearly see how their brand will come to life.