Two years ago, the ALS Association asked Yes& to develop a web-based tool that would deliver appropriate resources to people with ALS during every stage of the disease's progression. The project that ensued, My ALS Journey, launched in May 2023 during ALS Awareness Month.
The Yes& team sought to create a tool that would help a broad range of users. For that to happen, it would need to be easily accessible and provide a highly personalized user experience.
Personalization
The ALS Association is the world's largest funder of ALS research. The association advocates for better policies, drives awareness of the ALS community among the general population, and inspires hope for a future without ALS.
"ALS, or amyotrophic lateral sclerosis, is a progressive neurodegenerative disease that affects nerve cells in the brain and spinal cord. There is no cure for ALS yet." -ALS.org
A challenge of ALS is that it affects everyone differently. There is no straight path of disease progression. Every person's experience is unique. To get the right resources to users at the right time, the tool developed by Yes& required personalization.
When first encountering the tool, users complete a 15-question intake form that asks them to quantify their experience with ALS symptoms. All content within My ALS Journey is mapped to responses ranked on a Likert scale, from 1-5. Based on responses to intake questions, the tool identifies resources likely to be most helpful to users.
One question from the intake form asks: "How are you with cutting food and handing utensils?" Users choose from these responses:
I maintain normal eating habits.
I can be somewhat slow and clumsy but do not need help to eat.
I can cut most foods, although I may be slow or clumsy; I sometimes need help.
My food needs to be cut by someone else, but I can feed myself slowly.
I need to be fed.
A user who chooses responses in the range from "I can be somewhat slow…" to "I need to be fed" will gain access to the article "Maintaining Your Nutrition With The Least Amount of Exertion." Users who say they "maintain normal eating habits" will not see that article. If a user's subsequent, updated responses indicate that maintaining normal eating habits is no longer possible, the aforementioned article will appear on a resource page with other assets that are germane to the user's current condition.
That page looks like this: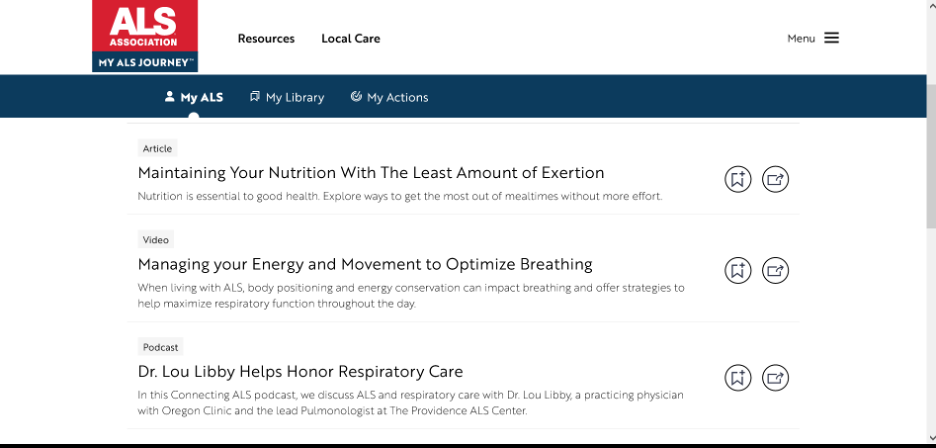 Accessibility


Yes&'s standard practice for web projects is to meet the AA international standard for website accessibility. Web Content Accessibility Guidelines (WCAG), the main international standard, has three levels of conformance: A (minimum), AA and AAA (the maximum).
For the My ALS Journey project, we aimed for AAA, a goal that most of the site's pages have attained. Yes& is working to raise the accessibility score of remaining pages, as well.
Accessibility, however, is more than a score. We talked to users throughout the development of the project to understand what was working well and, more important, what needed tweaking.
While testing wireframes (sketches of webpages), users told us that scrolling can be hard for people with ALS, especially when using certain forms of assistive technology. Keeping screens short to avoid scrolling would improve the experience, users said. We responded to the feedback by adjusting screens to minimize scrolling. The default display for resource pages shows three items at a time, enabling users to see more by clicking "Next" at the bottom of the screen.
During a later phase of development, user testing of a website prototype told us they didn't like the short pages. They wanted to see more resources per page because they didn't like clicking early in the resource list. Based on this feedback, we adjusted options at the bottom of the resource list screen. Users now see a page count (e.g., "Page 2 of 24") that reveals the length of viewed lists. Users can also select the number of items displayed on a screen. The default display for resource lists, adjusted to show six items, can be increased by users to 15 or 25 items.

Personalized accessibility features enable the My ALS Journey tool to accommodate users' mobility levels and personal preferences to get the most out of the tool.
Continued Testing
User engagement with My ALS Journey, which launched at the end of May, is high, according to early analytics derived from user testing. As the ALS Association expands availability of the tool, it continues to collect feedback, which it will use to inform future improvements.
Subscribe to The Ampersand newsletter for more insights from Yes&: