Alexandria, VA, March 10, 2022 – Yes& won six DC ADDY® Awards at last night's AAF DC American Advertising Awards Celebration for their work on FEMA's National Flood Insurance Program and Carpenter's Shelter. FEMA's "Keep Home" campaign won four Silver DC ADDY® Awards and the Carpenter's Shelter's "Light the Way Forward" campaign won one Silver DC ADDY and a Best In Show Special Judges' Award.
"Keep Home" is a national cross-platform campaign focusing on raising flood awareness in five regions (NYC, Florida, Louisiana, Texas, and Atlanta). It portrays investing in flood insurance as an investment in the future of the community. Local artists were commissioned to create original works depicting each region. Visuals were paired with statistics and messaging that tied back to our theme of Protect the Life You've Built. The campaign ran during 2021 "hurricane season" in English and Spanish across a range of media including CNN, ESPN, USA Today, The Weather Channel, iHeart Radio, Spotify, and The New York Times. Paid media impressions hit more than 638.1 million.
"Keep Home" was recognized for Film, Video & Sound / Television Advertising – Regional/National / Campaign; Elements of Advertising / Visual / Illustration – Series; Elements of Advertising / Film & Video / Animation, Special Effects or Motion Graphics; and Elements of Advertising / Visual / Art Direction – Campaign.
"Light The Way Forward" is an end-of-the year direct mail invitation from Alexandria, Virginia's center for homeless services, Carpenter's Shelter. It was mailed to donors and prospective donors before the 2021 holiday season. The festive mailer, created pro bono as part of social justice efforts at Yes&, used warm light as a way to bring the community together during a time of darkness and isolation for many. The two-piece kit included a pop-up paper lantern, die-cut to allow light shine through once is set up with tea light candle.
The Light the Way Forward DIY Lantern received a Silver DC ADDY and a Best In Show Special Judges' Award for Sales & Marketing / Public Service Marketing & Specialty Advertising / Single Unit.
"I am constantly amazed by the insight and imagination Yes& team members bring to work every day," commented president & CEO Robert W. Sprague. "I thank the AAF for recognizing our clients and our work through these awards."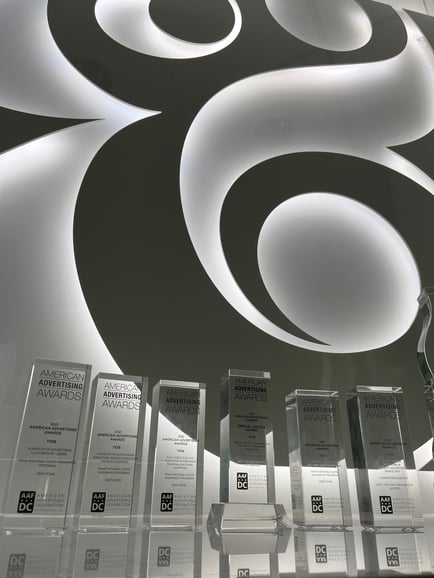 Contact Data
Amanda McCarthy
Yes&
703.823.1600
AMcCarthy@yesandagency.com