It's March Madness time—which reminds us of one of our favorite clients.
In 2022, St. Peter's University, a Jesuit institution in Jersey City, NJ, was anointed the "greatest Cinderella in March Madness history." The Peacocks won the hearts of fans around the world: social media posts and swag purchases soared, and everyone fell in love with these "Davids" who had stood up to higher ed's basketball "Goliaths."
But St. Peter's wisely knew that they had to plan for what happened after their NCAA journey—and fast. In July 2022, they turned to us for a brand project and asked if we could have a campaign ready to launch by January 2023.
Of course, our answer was "Yes!"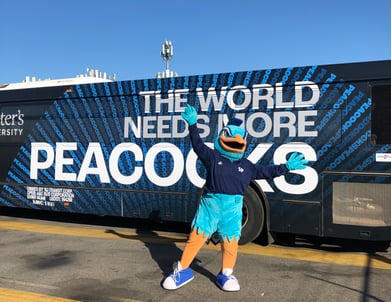 We knew that amid increasing skepticism about the value of higher education, St. Peter's had a great story to tell: it was a powerful engine of social mobility (in fact, the university ranked in the top 20—the only private university in the tier). Forty languages were spoken on campus, it served a large number of first gen and Pell-eligible students, and it had been designated a Hispanic-Serving Institution (HSI) for more than 20 years.

St. Peter's was also ready to reframe the conversation about them. While well-meaning, words like "scrappy," "under-resourced," and "underdog" were getting in the way of showcasing the university's incredible momentum—an upward trajectory it shared with Jersey City itself. We heard loud and clear that St. Peter's students and alumni don't have "something to prove"—they can belong anywhere and believe anything is possible.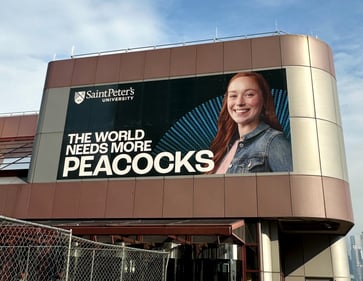 But St. Peter's lived in a noisy, crowded higher ed neighborhood. To grab attention, we started with a core brand idea: When Peacocks fly, they lift up everybody. Because St. Peter's isn't just about an individual's "bootstrap" story—Peacocks gladly take on being role models for their families, their communities, and their professions.
And because we wanted the world—and especially prospective students—to know that Peacocks were the kind of people you'd want on any team, whether that team is headed to the NCAA Elite 8, working in a global tech or finance company, or caring for the ill and vulnerable in a local hospital. Our tagline was equally confident, with a little playfulness for good measure: The world needs more Peacocks.
Our foundational brand work inspired the next phase of creative. Like the culture at St. Peter's, the visual design is student-centered, highlighting the spark, strength, and diversity of individual Peacocks. The copy and design elements are flexible and deployable in any medium. The work made an immediate splash with assets in every channel.
"Yes& Lipman Hearne listened, asked the right questions, and discovered the best way to communicate what makes this university special."

— Sarah Malinowski Ferrary,
Assistant Vice President for University Communications, Office of University Communications