A Texas triumph in the association space
A rebrand is more than just a cosmetic makeover; it's a profound reflection of an organization's evolution, values, and commitment to its audience. For an association, a rebrand is an organizational promise to members, staff, and stakeholders.
Some rebranding initiatives involve a significant overhaul of a brand's identity, including core values, messaging, visual elements, and often even its name. Other, less radical, rebranding initiatives will update aspects of an organization to better reflect its identity, resonate with its audience, and modernize certain elements— known as a brand refresh. A brand refresh can give an organization a more relevant and contemporary look and feel, while still maintaining equity and familiarity among existing customers or stakeholders. This form of brand refinement can entail updates to brand positioning, tagline, and key messaging to name a few.
Ready to graduate to the next level of rebranding success? Our recent brand refresh with the Texas Association of School Business Officials (TASBO) can be a guide for any association eager to bring more meaning to its brand. Let's delve into three invaluable takeaways that emerged from collaborating with our brilliant client on the rebranding process.
Three Key Lessons:
1. ACE YOUR RESEARCH.
Thorough research is the cornerstone of success in any rebranding effort. Understanding the intricacies of the organization's diverse audience, their values, and goals enabled us to create a brand identity that truly resonated.
Through Yes&'s Discovery & Research process, which included comprehensive surveys, interviews, and proprietary data tools and analysis, we unearthed essential insights that shaped the rebrand. Through numerous in-depth conversations with various audiences, we got to know the people who make up TASBO's membership. Employing our Resonate Data tool, a powerful analytics platform, we gained deep insights into member demographics, preferences, and engagement patterns. By delving deep into our client's world, we crafted a brand that reflects TASBO's promise. Board member and key stakeholder testimonials emphasized how the rebranding process was guided by deep understanding of Texas school business and finance operations.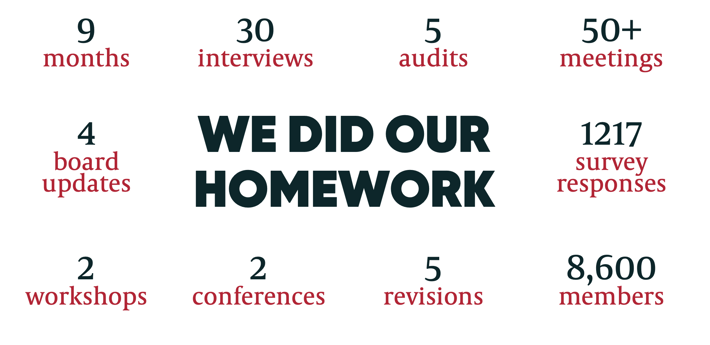 2. In-Person: The Honor roll of connections
Face-to-face interactions can be transformative in building trust and rapport with clients and stakeholders. Immersing ourselves in the association's annual Engage conference let us glean nuanced insights, get to know their members, and create connections with our clients. Meeting with clients, their board, and members in person facilitated candid conversations and a deeper understanding of their aspirations and challenges.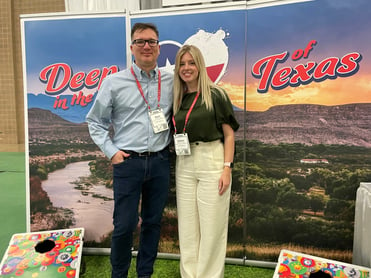 Visits to different parts of Texas and meeting the TASBO leadership team provided invaluable context for their operations and culture. Engaging with board members helped align the rebranding strategy with their collective vision for the association's future and explain creative inspiration and logo concepts. We mingled with clients and board members, and sat with members from across the state at dinners. It was networking with a side of Texas hospitality—a true treat that enhanced the project across multiple facets.
3. bring in key decision-makers early & often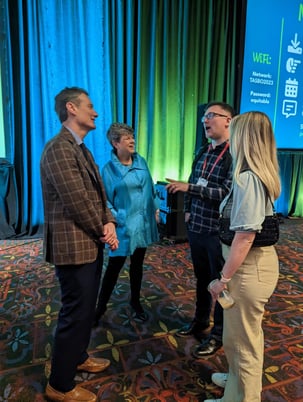 Early and frequent involvement of key decision-makers is the secret sauce for a successful rebrand. It's a journey that requires collective input and ownership from the organization's executive team and board of directors. From ideation to execution, key decision-makers should be involved in every phase. Determine when and where these touchpoints will take place and bring in those key players for input to ensure the new brand will resonate deeply. A brand isn't just for the audience; it should be a source of pride for the client, a symbol of who they are and their aspirations.
In the grand tapestry of a rebranding project, each thread of research, personal connection, and member-centricity weaves together to create a masterpiece. The successful transformation of TASBO not only exemplifies these principles but also serves as a testament to the profound impact a well-executed rebranding endeavor can have on an organization's trajectory—with the goal to deliver immediate impact while simultaneously positioning the association for sustained growth, attracting new members committed to their mission. As we celebrate this achievement, we look forward to applying these lessons to future ventures, ensuring continued success, growth for our clients and more trips to the Lone Star State.