Meet two of the latest additions to Yes&. Shedonna Young, Event Manager, and Myja Gary, our Dovel Technologies Account Manager.
Shedonna Young:
Shedonna Young, our newest Event Manager, joins the Yes& team bringing over 12 years of experience in Audio/Visual services and events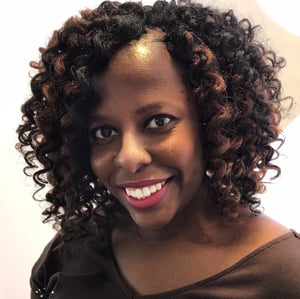 She spent the last three years working at the Newseum in Washington DC as the AV Manager, where she ran audiovisual for more than 500 large scale events.
A Cleveland, OH native, Shedonna moved to Washington DC in 2001. She attended Howard University and graduated with a degree in Jazz Music Studies. "When it comes to pulling off a flawless event, you need to be well prepared and organized, but most importantly, you need to be able to improvise," says Shedonna. Like great jazz artists working out complex and interesting solos within the confines of a harmonic structure, Shedonna prides herself on the creativity she brings to every event she manages regardless of budgetary constraints. "I'm a perfectionist, and I know that the sensory baseline that AV provides for the attendees needs to be seamless. It's one of those things that, if done correctly, will serve as a key experiential element that no one even realizes is occurring; but if done incorrectly, will stand out like a sore thumb and be the only thing anyone remembers."
When she's not orchestrating elevated experiences, Shedonna enjoys high intensity activities like paintball and rollercoasters to unwind. "Anything that gets the adrenaline up!" she said, laughing. It doesn't take a long conversation with Shedonna to see that she brings the same passion and energy to everything in her life, making her a professional you can trust to show you, and your company, in the best light.
Myja Gary:
Myja's positive attitude is infectious and will win your attention immediately. We couldn't be happier that she's joined the Yes& team as an Account Manager on our Dovel Technologies account.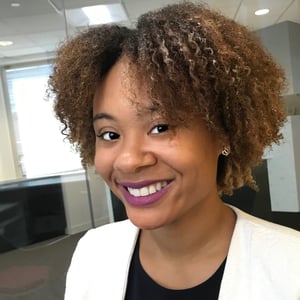 Myja recently graduated from Georgetown University with a master's degree in PR and has spent the last year working as a Communications Specialist at the University of Maryland. While there, she worked in the College of Information Studies, iSchool, and helped coders get excited and take advantage of the tools that teach them how to use various necessary software.
Aside from bringing experience, knowledge and insight to the team, Myja brings a tangible energy to Yes&. "I'm a go-getter. I strongly believe that we make our own luck and create our own opportunities. I love bringing that spirit to my clients and my team," says Myja. She has a background in event planning, journalism, project management, and PR. There's no problem Myja doesn't face head on and conquer, all while making it fun. "Taking the initiative comes naturally to me. I love working with passionate people and feel inspired by a culture as determined as I am. Yes& is the perfect fit," says Myja.
It will come as no surprise that Myja finds her out-of-the-office fun at the gym, holding a mic to sing, or hyping up the crowd while hosting an event. Her drive and ebullient personality are sure to inject life into even the dullest of days.