Meet our newest PR paragons. Yes& has added three talented new gentlemen to our impressive team. They bring a wealth of experience, knowledge, and new ideas to our clients.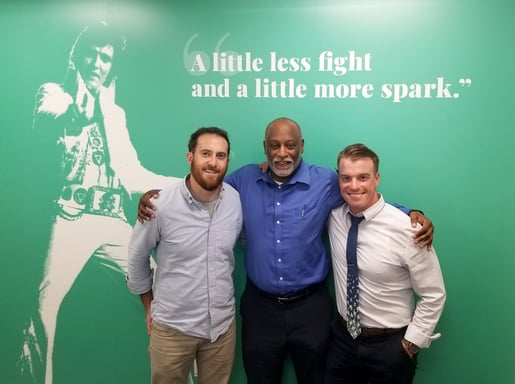 Meet Vincent Penge

With a background in digital marketing at Discovery Channel and TheKnot.com, Vincent Penge comes to us having freelanced as a writer and project manager for the last several years. With Yes&, he supports internal communications on-site for the federal Administration for Children and Families. After a long stretch of working from home, Vincent is psyched to spend his days around other humans again.

Meet Rutrell Yasin

Rutrell Yasin brings more than 30 years of experience writing and reporting on the intersection of technology, security, and government. Formerly an editor for publications like Federal Computer Week and Government Computer News, Rutrell drives content as a Writer and Strategist for Yes& government IT clients. Rutrell is so committed to his work that he even brought a laptop for stress-testing on a trip to the summit of Mount Kilimanjaro!

Meet Jason Werden

A native Washingtonian, Jason Werden joins Yes& as Public Relations Manager with A.J. Guenther and team. Having previously worked with agencies and organizations like FleishmanHillard and the International Spy Museum, Jason has a wealth of experience developing large-scale public education campaigns—highlights include the National Book Festival and the "Above The Influence" campaign for the White House Office of National Drug Control Policy. And he's getting married next month (so go easy on him until then)!
---
Yes& is the Washington, DC-based marketing agency that brings commercial, association, and government clients the unlimited power of "&" – using a full suite of branding, digital, event, marketing, public relations, and creative capabilities to deliver meaningful and measurable results.
Let's talk about what the power of "&" can do for you - http://bit.ly/2TvbIXp