Launching a higher education website is hard work—in part, because of the vast number of people it needs to support. When designing a refreshed digital presence for a higher education institution, there are various audiences to consider, from the staff spanning departments to students and alumni, and the prospective students and families who may be exploring options. Each audience has a unique interest in the website focused on their individual intentions and needs. The work P'unk Avenue (now part of Yes&) accomplished with Daytona State College's website is a prime example of how taking a student-centric approach to your website can address the needs of a shifting audience in the higher education space.

Anthony Robinson, Senior Vice President of Digital Strategy for Yes&, has years of experience serving clients, particularly in Higher Ed and was a pivotal player on the Daytona website redesign project. "When working with an institute that has a strong continuing education program, it's crucial that the messaging focuses not solely on prospective high-school graduate students and considers all prospect students. Whether that is people looking for certification courses or parents returning to continue their education, it requires hard work to truly understand your audience and be conscious of the people who are actually partaking in your university's courses," Anthony explained.

Daytona State College has provided some of the most accessible and affordable academic programs in the South and the state of Florida for the past 60 years, with a long history as a college credit, adult education, and vocational school. They have an authentic story to tell about their approach to "finding your path."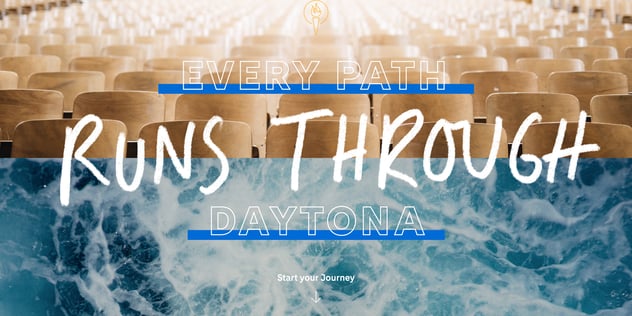 Our work with Daytona State College not only tells the school's unique story across its website, but also sets the college up for success through a design complete with documentation and training to create capacity within the school–not dependency. By ensuring the content owners were well-trained, Daytona State can keep its website on brand for years to come. DSC partnered with Yes& (P'unk Avenue) to elevate this message and use research to create a redesigned website that accurately reflected its core values. Through comprehensive research consisting of stakeholder interviews, analytics, heat-mapping, user tests and more, the team mapped out a plan for a revitalized user experience. The new theme centered on the unique and individual pathways of each student to reach their specific goals.

The positivity and joy students feel when speaking to a member of the DSC community had to be felt on the website through imagery, content, and resource accessibility. In order to achieve this, we used signature animations along with close-up intimate photography to show off the more personal experience that students have at Daytona State.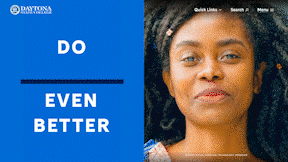 "The goal was to showcase Daytona State's programs and show that the school is for everyone, on every pathway, at different chapters of their lives. We wanted to show the diverse faces of the Daytona students: from first generation black students, parents returning to school, to people looking for a certification to strengthen their skills – everyone!" -Anthony Robinson, Yes&
This project was a huge success – on time and on budget. The result was a seamless experience that allowed our team to launch the new Daytona State College website in just 11 months. We ensured the front-end and back-end development phases were complete with open communication channels, and made on-the-fly updates to design and code to accommodate for changes due to user needs and accessibility updates.

All the hard work in the research phase really paid off. Since the new website launched, we have reduced the original bounce rate by 50% and increased the average page time by a whopping one minute. This website was built with the intention to reduce clutter and get users where they needed to go quickly. The data shows we've accomplished that and more. As the website continues to get better with time, we hope to soon share updated data around the enrollment figures in the future – stay tuned.