Capital campaigns can be an uphill battle, with so much competition for nonprofit projects. It helps when an organization has a clear vision and a solid track record to back it up— yes, and, a marketing agency that specializes in message development and brand awareness to catapult them forward.
That's what happened when the nonprofit Children's Science Center of Northern Virginia Board of Directors approached Yes& to advance its capital campaign for a state-of-the-art STEM facility to be built on 150 acres of green space in Loudoun County, Virginia.
The science center, patterned after similar ones in Richmond and Danville, Va., has been operational since 2006, first as a traveling science museum. In 2014, it secured space in Fair Oaks Mall in Fairfax, as well as the Loudoun County land donation from Kincora development. The site, along VA Route 28 near the Fairfax County line, is in the technology-rich Dulles corridor, a high-growth area with huge demand for a family science center. Meanwhile, the science center was hosting more than 70,000 visitors each year in its mall space, and demand was growing.
In 2016, the Board began building public-private partnerships to raise money to build on the new site. Through investments from the Commonwealth of Virginia, Fairfax and Loudoun counties, and private donors, they had received about $55 million by mid-2019 toward their goal of $75 million.
It was time to step up publicity and raise the remaining funds to build the center. The Board had new design plans and a new commitment of $10 million from Northwest Federal Credit Union. The Board of Directors and executive team wanted fanfare and visibility to secure the additional funding.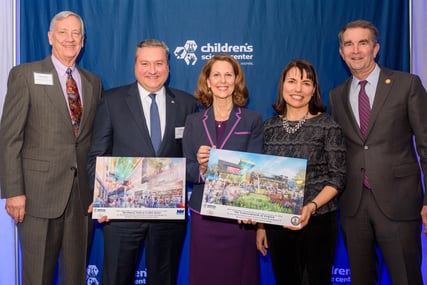 Dorothy Ready, communications director for the science center, reached out to Yes& for integrated marketing and public relations. Dorothy had previously worked with Mike Smith, Yes& senior vice president of public relations, on the Fairfax County Public Schools Marketing Committee and DECA program, and was confident in Yes&'s abilities.
Mike assembled a team to meet with the science center Board and discuss next steps. The team moved quickly to plan two events to raise publicity – one for announcing the design plans and latest donation, and a VIP event for senior government and industry leaders. To get there, the Yes& team identified key stakeholders and audiences, planned content, timing, and placement, and reached out to selected media.
The result was a highly publicized and successful Dec. 4 event, with more than 100 attendees, including Loudoun County leaders, corporate CEOs and board members, and the media. The event generated 15 original placements of unique media coverage, reaching an estimated audience of 97,255,245 impressions.
A second event, a "Launch the Future" VIP reception on Jan. 14, was hosted at Belmont Country Club. Yes& PR Manager Jason Werden led the on-site team and ensured that Gov. Ralph Northam and First Lady Pam Northam (herself an educator) were interviewed for a WUSA-9 (CBS), science-themed content package, scheduled to air in early March.
"It has been a pleasure to partner with Children's Science Center leadership, including Executive Director Nene Spivy and Communications Director Dorothy Ready," Mike said. "Sometimes, you have to hit the ground running, especially when the philanthropic work has such momentum. The $10 million gift from Northwest Federal Credit Union grabbed the media's attention and political limelight here in Virginia. It all started with a dream to bring STEM education to younger children."
Yes& is the Washington, DC-based marketing agency that brings commercial, association, and government clients the unlimited power of "&" – using a full suite of branding, digital, event, marketing, public relations, and creative capabilities to deliver meaningful and measurable results.
Let's talk about what the power of "&" can do for you - http://bit.ly/2TvbIXp