On December 12th, the AFCEA (Armed Forces Communications and Electronics Association) Washington, D.C. chapter celebrated its 44th Winter Gala. More than 1,000 technology professionals, along with their partners from federal military and intelligence agencies, turned out in black tie for a festive evening of networking, great food and drink, and raising money to help underprivileged children in the Washington, D.C. area.
Yes& produced and managed the event for AFCEA DC, helping to raise awareness, coordinate sponsorship, and orchestrate the evening's gala. More than 20 volunteers from Yes& went to the event to help collect toys, serve as directional support, deliver onsite design features, and provide overall event management.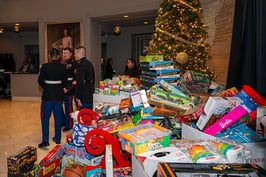 AFCEA DC is a major contributor to the U.S. Marine Corps Reserve's annual Toys for Tots campaign. The association, which represents technology professionals in more than 100 government agencies, military services, and private companies, donated more than 3,500 toys as part of this year's annual holiday toy drive. AFCEA DC also raised hundreds of thousands of dollars for educational programming for the community and to fund scholarships for area students entering college STEM programs.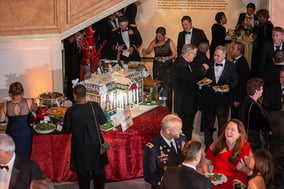 After the event, Marines loaded the toys into trucks outside the gala venue at The National Museum for Women in the Arts. AFCEA's annual architect-designed gingerbread house displays were donated to the USO for distribution to area wounded warrior centers.
For more information about the Winter Gala, please visit the event website.
About AFCEA Washington, DC: The Armed Forces Communications and Electronics Association (AFCEA) Washington, DC Chapter largely focuses on the Department of Defense, intelligence community, national security, and military health related agencies. Chapter activities include nine monthly luncheon programs featuring a panel of government and military leaders, the annual Winter Gala networking event, and the Military IT Leadership Awards. Additionally, the Chapter hosts three technology summits throughout the year.