The new website Yes& created for global human capital firm RGP emphasizes the experience and thought leadership of the RGP team, and uses real client stories to echo RGP's tagline and brand positioning, To the Power of Human™.
The Yes& team was brought in as RGPs new brand positioning was finalized. Our design challenge was to reflect the breadth and depth of this global consulting firm, and the thought leadership of individual team members.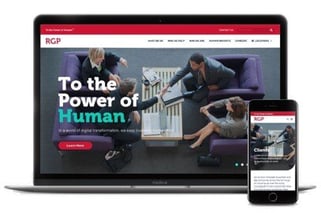 We created a robust content strategy that incorporates case studies, articles and white papers, and other content. The website was built on the WordPress CMS and uses a revamped taxonomy and categorization to show related content to site visitors as they explore the pages. It is mobile-friendly, featuring a responsive design, and supports RGP's global locations.
Since the launch of the new website in June 2019, RGP has already seen a 3x increase in traffic compared to the prior six months. In a short time, RGP can count 57,000+ site visits, 37,000+ unique user visits, and 532+ companies driven to the site
In addition, the website enables the RGP team to manage and update content more easily, while integrating more effectively with the company's marketing efforts and related systems, adding value over time.